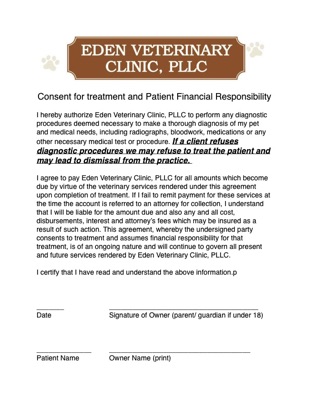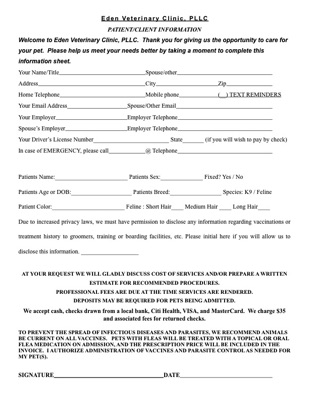 NEW CLIENT INFORMATION
Please read all the information provided prior to your arrival.
We are not an emergency clinic. We are unable to treat or manage life-threatening emergencies. We are like your primary human doctor: if there is a life-threatening emergency you go directly to the hospital and not your doctor. If emergency surgery is needed, they will be referred back to your veterinarian or to one of the local emergency clinics. If your pet is having a life-threatening emergency please go directly to one of our local emergency clinics, listed below:
Orchard Park Veterinary Medical Center located at
3930 North Buffalo St.
Orchard Park, Ny 14127
(P)- 716-662-6660
Or
Greater Buffalo Emergency Clinic located at
4821 Genesee St.
Cheektowaga, NY 14225
(P)- 716- 403-4370
Or
Green Acres Veterinary Center
2060 Niagara Falls Blvd
Tonawanda, NY 14150
(P)- 716-694-0122
Prior to your arrival, please call our office as we may not be accepting clients depending on our staff availability.
Depending on multiple factors we may turn new clients away to accommodate our already established clients.
We are also asking you to contact your veterinarian and have them send us the complete medical records ahead of your arrival, not just the vaccine record, the line items, or a summary. We need the complete medical notes (the complete written SOAP history). It is your responsibility to make arrangements for records to be sent over.
We will not check in any new clients until the complete medical record has been received and is in our possession.
As required by law all patients must be up to date for rabies vaccination. If the patient is not up to date on rabies vaccination, or no proof is provided (RABIES TAGS ARE NOT PROOF OF RABIES!) the patient will receive a rabies vaccine as required by law or it will not be seen at our facilities, with no exceptions.
If you have been fired from your regular veterinarian for any reason we will not be accepting you as a client at our practice, as we do not accept any clients who have been fired or owe any of our colleague's money.
Payment is due in FULL at the time of Service
We are happy to provide estimates for services; please let us know at the start of the visit if you have a budget you need to stay within.
New Client Hours
Mondays, Tuesdays, Fridays- 11am to 5pm
Wednesdays- 11am to 3pm
Thursdays- 9am to 3pm
Saturdays- No New Clients
Lastly please know that the wait times can be between 2-4 hours depending on the caseload.
Please click on the image or text below and fill both pages prior to your arrival.